CAUTION This app works over MIDI. You will need a MIDI adapter and Bluetooth or USB connection to your mobile device.
Your BeatBuddy Project on your device
Easy movement around your device
All your folders
Device playlists
Search for songs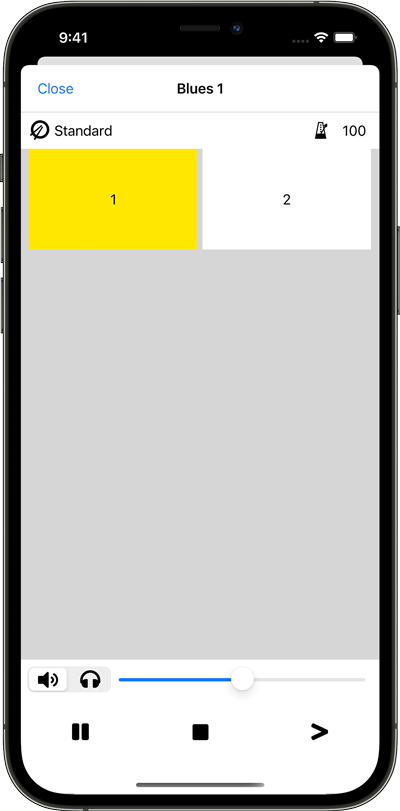 Full control of every song
Change drumset
Change tempo
Play/Stop/Pause/Unpause a song
Start with a specific section
Transition to different sections (long press keeps the transition going)
Play a fill for the currently playing section
Trigger an accent
Adjust the main and/or headphone volume
Virtual playlists
Virtual folders
Unique song name
Unique tempo
Unique drumset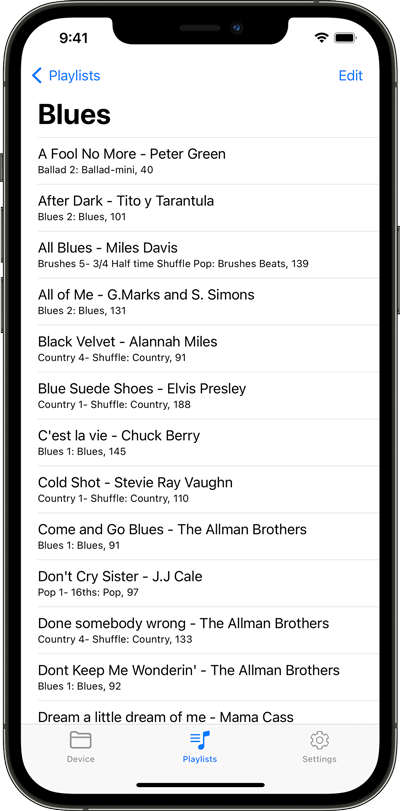 Questions and Answers
What hardware do I need to connect my BeatBuddy to my phone/tablet?
You will need either a physical or a Bluetooth connection from your device to the pedal.
The first thing you will need is the MIDI adapter from Singular Sound. This adapter converts the pedal's PS/2 port to standard 5-pin MIDI In/Out ports.
Next you will need either a BLE Bluetooth device or a Midi to USB cable.
A Bluetooth connection is probably the easiest. Use something like the Yamaha MD-BT01 or the CME WIDI Master
For a USB, direct connection, you can use something like the iRig MIDI 2 from IK Multimedia.
How do I sync my BeatBuddy project with BBFF?
📱 Go to Settings > "Load BeatBuddy Project" within the app
🖥 Visit https://bbff.rocks/upload with your computer
🖥 Enter the four digit code displayed within the app to link the two together
🖥 Click "Select BeatBuddy Project" and locate the folder containing your BeatBuddy project (you can just select your SD card)
🖥 You may receive a warning about uploading many files to this site. You must allow the "upload" to grant permission to read the project files. We don't upload the project files, only meta data about the project.
🖥 You will see a summary of the project and then click "Upload to device" to complete the sync.
📱 Connect the app to your MIDI adapter and enjoy the 🥁.
Do I have to use BeatBuddy Manager?
No, you can upload your BeatBuddy project directly from your SD card. This is particularly useful if you have a second hand BeatBuddy with existing songs, or you use BeatBuddy Loader Software to update your project.
Will this app work if I'm also using the MIDI Maestro and/or the Aeros Looper?
Yes, MIDI allows multiple devices to talk to each other, so BBFF can communicate with the BeatBuddy alongside other controllers. You may need to look at setting up MIDI channels and consider in which order you wire things, but it will work. If you need help, email support@bbff.rocks
Will this app work with the BeatBuddy MINI?
No, the BeatBuddy MINI doesn't have MIDI support so it is not possible to control it with this app.
I have a question you haven't answered